Ref:
Date:
Location:
Photographer:
Ref:
Date:
Location:
Photographer:
Butternut Squash and Chickpea cakes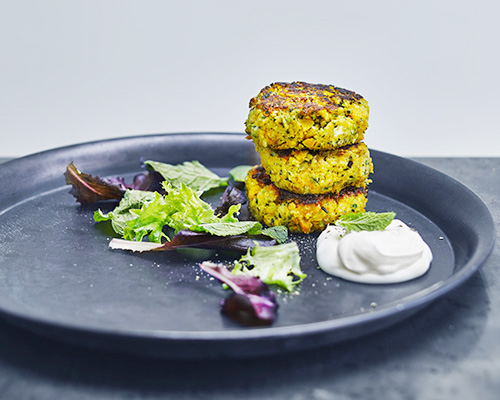 Butternut Squash and Chickpea Cakes
Serves 4
Ingredients
1 butternut squash, peeled and diced into 1 cm cubes (you need approx. 400g diced flesh)
1 bunch spring onions, chopped
2 tsp chilli paste
1 tsp ground cumin
2 tbsp tahini paste
2 tsp freshly grated ginger
small bunch coriander, washed
1 x 400g can chickpeas, drained
rapeseed oil, for frying
To serve,
Natural yogurt and salad leaves
Method
1. Pan fry the butternut squash in a little oil with the spring onions, chilli paste and ground cumin for 5 minutes to soften. Cool slightly.
2. Place the remaining ingredients into a food processor and use the pulse setting to chop and combine the ingredients. Take care not to over-process to a mush! Stir in the butternut squash mixture.
3. Shape the mixture into four cakes.
4. Shallow fry in a little oil for 2-3 minutes on each side.
5. To finish, serve with natural yogurt and salad leaves or to make the recipe a dinner party piece I love to serve these with Yotam Ottolenghi's recipe for Tahini Parsley Dressing.
Link here. h
ttp://www.ottolenghi.co.uk/tahini-parsley-dressing-