Ref:
Date:
Location:
Photographer:
Ref:
Date:
Location:
Photographer:
Mushroom Burger with Asian Coleslaw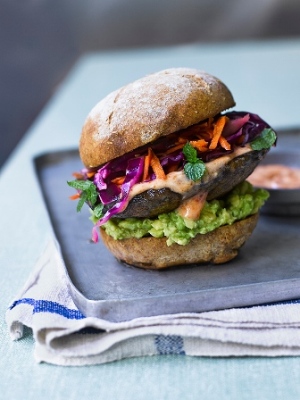 A fabulous 'Meat Free Monday' recipe – the grilled Portobello mushrooms are so delicious even a meat lover will adore this recipe. The Asian coleslaw is inspired by a recent visit to Indian restaurant Dishoom in Shoreditch
Mushroom Burger with Asian Coleslaw
Prep time: 10 minutes
Cook time: 10 minutes
Makes 4
For the Asian 'slaw'
half a small red cabbage, finely shredded
2 large carrots, grated
bunch spring onions, finely chopped
handful of fresh mint and coriander leaves, roughly chopped
2 tbsp sesame oil
2 tsp soy sauce
1 tbsp honey
squeeze of lemon juice, to taste
salt and freshly ground black pepper
4 large Portobello mushrooms
2 ripe avocadoes
4 soft wholemeal buns
chilli mayonnaise, to taste
Method
1.Place the shredded red cabbage, grated carrot, chopped spring onion and herbs into a large mixing bowl, season.
2.Mix together the dressing ingredients (sesame oil, soy sauce, honey and lemon juice). If you place the ingredients into a jam jar and shake together this makes the job easy.
3.Toss the dressing into the shredded veges, season and mix well.
4.Wipe the mushrooms clean if necessary, and then remove the stalks. Brush with a little oil and season well. Grill under a preheated grill for 5 minutes each side until they are soft.
5.Meanwhile mash the avocadoes and warm the buns.
6.To serve, cut the warmed buns in half and spread the avocado onto the base each, top with a grilled mushroom, a squeeze of chilli mayo* and a generous spoonful of Asian slaw. Top with the bun lid. Enjoy!
*Hellman's do a good chilli mayo – otherwise add hot chilli sauce to your own mayo, to taste.